Customer Relationship Management (CRM)
Most people confuse Customer Relationship Management (CRM) for a software tool. This is natural since the term was made popular by various software companies which provided a platform for managing customer relationships and identifying behaviours effectively. Customer relationship management (CRM) is an approach to manage a company's and company's agents' interaction with current and potential customers in various forums. Overtime these interactions become valuable data which is then used to analyze customer's history with a company to improve business relationships with customers, specifically focusing on customer retention and ultimately driving sales growth.
Use of a CRM
A company has to use a CRM which synchronizes with their strategic objectives. There are companies which develop customized CRMs for industries like F&B, Real Estate, BFSI etc given the specific nature of their operations. With CRM, you can aim to achieving following objectives.
Operational
The primary goal of customer relationship management systems is to integrate and automate sales, marketing, and customer support. CRMs typically have a dashboard view which can give an overall picture about your customer interactions or overall information about a particular customer. The dashboard may provide client information, past sales, previous marketing efforts, and more, summarizing all of the relationships between the customer and the firm. CRM is typically made up of 3 main components: sales force automation, marketing automation, and service automation.
Sales force automation works with all stages in the sales cycle, from initially entering contact information to converting a prospective client into an actual client. The CRM takes into account how the customer was onboarded, track of repeat sales, source of lead generation for new customers thereby simplifying coordination between sales and marketing. It provides one screen snapshot of all contacts for a sales person thereby reducing time for research before an important meeting.
Marketing automation focuses on easing the overall marketing process to make it more effective and efficient. Be it sending promotional emails at a defined time, or posting updates on social media, this CRM comes in handy to save marketing resources' time. It supplements marketing efforts and helps converting a lead into an onboarded customer.
Service automation is the part of the CRM system that focuses on direct customer service technology. Through service automation, customers are supported through multiple channels such as phone, email, knowledge bases, ticketing portals, FAQs, and more.
Collaborative

A CRM can act as a hub for interaction between vendors, sales team, customers, vendors, distributors etc. This interaction between internal and external stakeholders helps reduce the sales cycle. An inbuilt call feedback system goes a long way in collecting useful information about what your customers are looking for.
Analytical

An organization collects customer information through various channels. A CRM can act as a hub for collecting and storing all this information through efficient usage by sales force. This data is not solely for the purpose of storage but to be analyzed so that it can throw out insightful information about your customers. This helps predictive solutions for customers by making strategies separately for cluster of customers basis behavior. Today the advanced CRMs are able to predict when a customer will discontinue using products or services of a company. This helps companies take steps in anticipation to avoid such a situation.
Are the benefits of using a CRM real?
According to a Forrester study:
• 50% of teams improved productivity
• Sales productivity and uplift was 5%
• Consultation time was reduced by 10%
• Revenue increased by 2%
• Customer service labor cost was reduced by 40%
• Labor costs overall decreased by 20%
• Marketing budgets saved at least $75,000

*source – IBM
How does a CRM help achieve the above benefits?
Entire customer management system is based on the premises of reducing customer interaction on issues and increasing business conversations. A CRM does exactly that if used well. With increased customer satisfaction, there are better chances of repeat sales and the customer acting as a brand ambassador for your services in their network. It builds up equity for relationship, brand and recall value.
In 2012, Tech News World surveyed more than 500 organizations and found that the benefits of CRM technology can benefit almost any business and in several different areas. In fact, it's difficult to think of any other business-related technology that is as versatile as CRM that has as many direct benefits.

• Enhanced ability to target profitable customers.
• Integrated assistance across various channels
• Enhanced sales force efficiency and effectiveness
• Improved pricing on products given repeat sales
• Customized products and services
• Improved customer service efficiency
• Individualized marketing campaigns
• Connect customers and all channels on a single platform.
How to achieve these benefits?

1. Improve services: CRM services provide the ability to a company for producing, allocating and managing requests made by customers. For example, call center software module of a CRM helps connect a customer to the representative who can best assist them with their existing problem.
2. Personalized service: As the customer data builds up, company is able to analyse behaviours and preferences. These inputs can be used to design personalised services leading to customer delight.
3. Responsiveness: Customers' situations and needs can be understood by the firms to anticipate the changes to be made in products and services to remain ahead of the competition.
4. Segmentation: In CRM, segmentation is used to categorize customers, according to some similarity, such as spending budgets, industry or some other characteristics, into similar groups.
5. Marketing: The key is to adapt faster than your competition. Without valuable inputs provided by a CRM you not only lack understanding into your customer preferences but also are far behind a competitor who uses CRM effectively. Use insights to customise marketing campaigns.
6. Integration: Bring customer information collected from various channels at one place so that a salesperson can use that information before an important meeting. Also, in case of discontinuity of a sales person, at the information is intact to be used by successors.
7. Time saving: CRM will let companies to interact with customers more frequently, by personalized message and communication way which can be produced rapidly and matched on a timely basis.
What should I look in a CRM?
A study by IBM finds that following are the most desired features in a CRM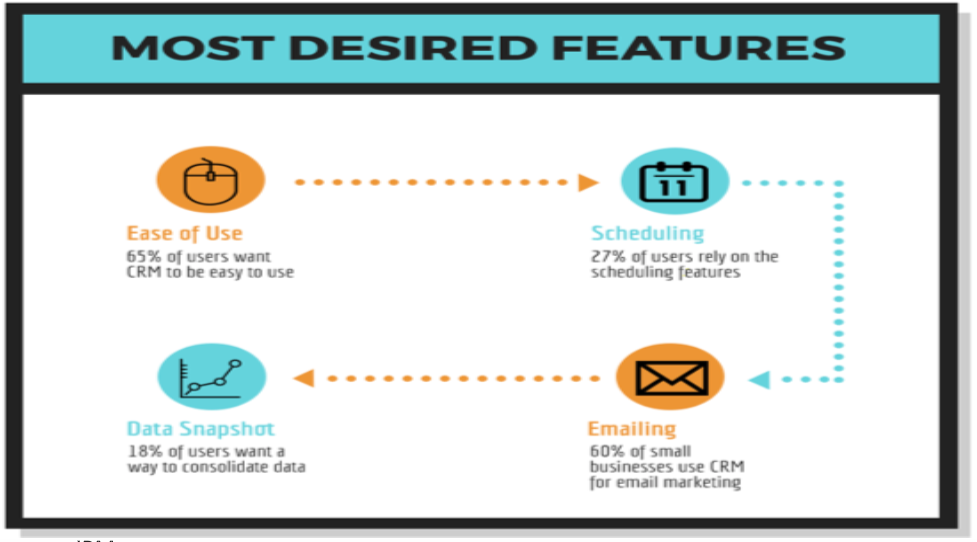 *source – IBM
Although CRM usage differs in each industry and in each company, user adoption increases if a CRM is able to score high on the above mentioned aspects.
Important CRM statistics from various sources
• Without CRM, 79% of leads fail to convert (Pardot)
• Bad data sources result in 30% of all leads failing (Cyber Sphere)
• The CAGR on CRM is 15.1% (Forbes)
• CRM generated $36 billion in 2016 (Forbes)
• The ROI on CRM is approximately $5 to every $1 invested (Baseline)
• Adoption rates for CRM are 26% (Salesforce)
• CRM gives businesses a 65% boost in sales quotas (Innopple Technologies)
• A 41% revenue increase is realized with CRM (Trackvia)
• Social CRM improves retention by 26% (Nucleus Research)
• CRM is used for email marketing 60% of the time for small businesses (MarketingCharts.com)
• Leads that are nurtured in the CRM system convert 47% of the time (Annuitas Group)
• Conversion rates can improve by 300% with CRM in place (Cloudswave)
• Average purchase value can improve by 40% with CRM (Cloudswave)
• Lead cost is reduced by 23% with CRM (Cloudswave)
• Customer service can improve by 47% with CRM (Capterra)
• Overall, 74% of businesses using CRM report better customer relationships (Software Advice)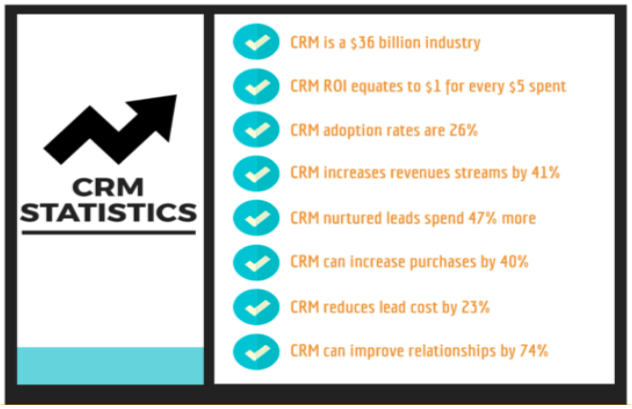 *source – IBM
Conclusion
CRM software undoubtedly offers a wide variety of benefits for your business however like any other system, the quality of input determines the quality of output. Businesses can use increasing mobility and accessibility to their advantage to manage an active sales force.
CRM is a means to achieving enhanced customer relationship and not an end in itself. Choose a CRM which users in your company can adopt and use to their advantage for closing sales calls.